What Do You Want to Accomplish with Your Website?
Whether you are wanting a website designed for your business for the first time, or are considering a redesign, it's important to have your main goals in mind to get the most out of your investment. Having a plan or list of priorities you can give to your web designer is a great way to communicate those goals and to make the planning process easier. Here are some ideas for common goals a business may want to accomplish with their website, and how you can get there in a few simple steps: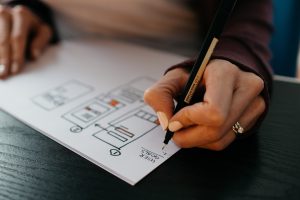 Would you like to…
Increase brand awareness?

 
Your website is a great place for the important information about your business and its values to live. Websites, by nature, allow you to lay these things out into labeled sections, hopefully, making it easier for your potential customers to learn about you. The first task you must do before consulting a web designer is to have a list of what's important to you to be written on your website about your business! This also applies if you already have a website, as a content audit is in order to make sure your website still says everything it needs to with respect to accomplishing your goals. As a long-term strategy, you can write blog posts on topics related to your line of business to zero in on your industry expertise. Using an appropriate search engine optimization strategy allows your business' brand to be put in front of the correct audience once you've nailed your website content to fully explain your brand. 
Grow your social media

following or email list?

 
It's no secret that social media is a personable and popular way to continually connect with your audience, on an almost-instantaneous basis. Similarly, promotional emails, written in a way to avoid the negative connotation of spam, are a great way as well to remind your customers that you still exist to serve their needs! While both methods can drive traffic to your website, it's equally important that your website can be a traffic flow to your social media and email lists. When speaking with a web designer, make sure that on your list of priorities is a somewhat large and prominent way to link to your social media accounts. Also, remember to have a user-friendly form that allows users to add themselves to your email list without any trouble on their end. Speak with a web strategy consultant to see how you can offer valuable information from your website by asking for email addresses first, or see how you can showcase your interesting social media content on your site to prompt people to seek your accounts out. 
Get more customers or leads?
More than any other goal, websites should be a reliable way to gain customers you've never had access to, thanks to search engines that allow us to scour the Internet for whatever we need. As mentioned before, search engine optimization, or SEO, is a phrase you should remember and advocate for when designing your website. SEO ensures that from a technical point of view, your site is set up in a way that Google can most accurately display a link to your site for common terms that are associated with your business. Having a website that is attractive, modern, and quick-to-load makes certain that once someone finds your page through a search engine, they have incentive to stay and read what you're all about. Relevant content helps make sure this goal is achieved, too. 
Encourage repeat sales?
Maybe you have a great pipeline already to make lots of sales for your business through your current website, or by means besides your website. Whatever the case, your website should be a good reminder and great advocate for you to encourage your current customers to continue to buy from your business. If you sell products or services through an e-commerce platform on your website, make sure that when building or redesigning your site that the purchase process is seamless and user-friendly. A tricky checkout process is one way to surely deter sales. Additionally, having appropriate sliders on the top of site pages that advertise new products and services or new information about business processes in an eye-catching technique to encourage another sale. 
Here at RainStorm, all of these topics are on the forefront of our minds as we approach each website design project. We encourage you to reach out to our team to see how we can help address any of these topics, along with any not mentioned in this post.