Web-based oceanography book adds to open-sources learning universe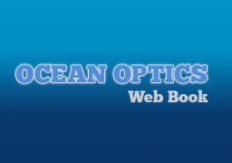 Following in the footsteps of other open-source web-based learning initiatives such as MIT's OpenCourseWare, RainStorm is proud to announce our participation in the all-new Ocean Optics web book project.
As the web development agency for the project, we helped to conceive, design, and build the entirely free, web-based oceanography textbook written and produced by Curtis Mobley and a group of contributors.
The book's nine chapters span introductory to advanced-level topics in ocean optics, written primarily by the three scientists at leading national organizations.  A comments module invites readers to leave thoughts and additional information, and the book's content is designed to evolve and grow over time as the field advances.
At the heart of the Ocean Optics web book is a LaTeX-to-HTML converter, allowing the authors to compose sophisticated figures in a native language which is then seamlessly translated to images for display in the web browser. This process ensures that the authors can present advanced information that is then accessible to anybody with a web browser and an internet connection- no special tools required.
The Ocean Optics web book project is powered by SiteTurbine, RainStorm's own suite of web-based tools for site management. To learn more, visit oceanopticsbook.info.