Updated John Bapst website promotes new boarding program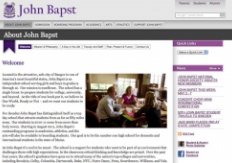 We're pleased to announce a refreshed design and layout for the John Bapst website, online at http://www.johnbapst.org. The new site provides detailed information about the school's new boarding program, launching in fall 2011.
Behind the scenes, the new site is powered by SiteTurbine, web-based software for managing website content and more. With SiteTurbine, John Bapst staff can now use a secure, web-based admin area to manage the website pages, files, news, and contact forms.