The Town of Houlton launches new municipal website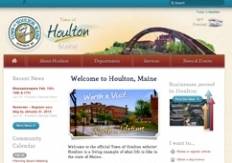 The Town of Houlton is a service center community, offering full-time police, fire and ambulance service. Nestled in Northern Maine, Houlton is a town of over 6,000 residents, and is located near the United States – Canada border.
The new Town of Houlton website is built on the easy-to-use WordPress content management system, and features a dynamic news section, community calendar, and up-to-date weather. The site also incorporates customized pages for specific sections of content (view the "doing business" page for an example). Additionally, the site contact form sends emails to different departments, depending on the type of inquiry. These new features enable the Town of Houlton to service the community in a streamlined fashion.
At RainStorm, we are thankful to have worked with the Town of Houlton, and we encourage you to visit the new site. As always, your feedback is appreciated!