Supporting a Green December: "456 Hours of Giving" for the the Orono Village Green Project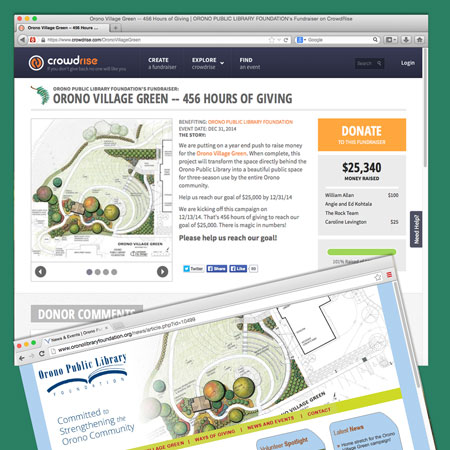 The Orono Public Library Foundation had an impressive year-end goal to raise funds for the Orono Village Green, a project which will transform the space directly behind the Orono Public Library into a beautiful public gathering space for three-season use by the Orono community.
The campaign kicked off its "456 hours of giving" on 12/13/14 with a bold year-end goal to raise $25,000 in the last few weeks of the year. RainStorm, which has been a long-time supporter of the Library, helped implement an online fundraising plan to support the work being done by volunteers.
"What really worked well was integrating the various ways to reach people using not only traditional methods like mailings and print ads, but also online ads and social media to meet an aggressive goal in the last two weeks of the year," said Sarah Kenney, Foundation Board President and campaign Co-Chair. The effort was a success and raised more than $44,000 in total year end giving."
The aggressive goal and short timeline made it essential to reach people through multiple avenues. With the help of dedicated volunteers and integrated technology provided by RainStorm, they not only met but exceeded their year-end goal.
RainStorm helped to create and administer a campaign using the online fundraising website Crowdrise. Crowdrise had great features like simple social and peer-to-peer sharing, real-time donor listings, campaign images, and more. Integrated into the website, the total was updated automatically as new gifts were given. Campaign updates were made regularly using Facebook and Twitter, drawing donors to the site. Additionally, the Bangor Daily News donated online advertisements, designed by RainStorm's Evan Habeeb, which linked directly to the Crowdrise site. Matching physical pieces – a postcard mailing and print advertising – were also created for the campaign.
If your organization is considering an online fundraising campaign, RainStorm can help you craft a campaign to maximize your organization's online connections with
setup of an online fundraising campaign — from a simple credit card information collection form to a full campaign site like Crowdrise or GoFundMe;
cohesive graphic design for your campaign, including social media graphics and online advertising graphics; and
integration of your solution with your website and social media.
We would be happy to talk to you about your online project – call or email Brian (brian@rainstorm.host) or Monique (monique@rainstorm.host) at 207-866-3908.
Read more about the Orono Public Library Foundation's Orono Village Green Project and the 456 Hours of Giving campaign at their website – http://www.oronolibraryfoundation.org.