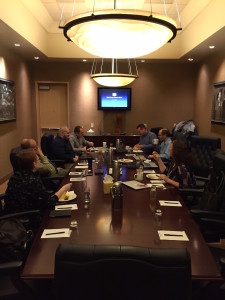 Yesterday at RainStorm we took a step back for our annual retreat. Our retreat is a day-long event where we spend the first half of the day reviewing our previous year as well as setting a course for the year to come. The second half of the day we head off for some activity time.
This year we started off the day with breakfast and our review meetings at Hollywood Casino. We covered a number of highlights and accomplishments that happened in 2014. After setting a game plan for 2015, we headed off for lunch and then wrapped up the day slaying some pins.
More photos of yesterday's retreat below and on Facebook, Twitter, and Instagram!