RainStorm Consulting programmers earn highest industry certification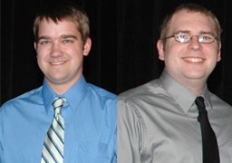 RainStorm Consulting is pleased to announce that its staff of programmers, Jeremy Knope and Matt James, have each earned the title of Zend Certified Engineer, currently the industry's highest certification for PHP programmers worldwide. 

With their PHP 5 certification, Jeremy and Matt join an elite ranks which includes only two other programmers from the entire state of Maine, and just a small fraction of the tens of thousands of active PHP developers worldwide.
"Congratulations to both Jeremy and Matt for this achievement," said Brian Rahill, president of RainStorm Consulting. "We are proud of Jeremy and Matt for earning this honor, and proud of the message it sends about our commitment to excellence here at RainStorm."

PHP is the world's most widely-used open-source web development language, powering millions of websites across hundreds of thousands of companies and organizations worldwide. As awarded by Zend, the PHP company, the certification ensures that both Jeremy and Matt meet and exceed the highest standards in development knowledge, practices, and experience in their field. Jeremy Knope previously earned the same certification for an earlier version of PHP.

Jeremy Knope, 27, is a Bangor resident and has been employed with RainStorm Consulting since January 2005. Originally from Vermont, he holds a degree in New Media from the University of Maine. Jeremy is co-creator and lead developer of SiteTurbine, RainStorm's own custom suite of website tools. Jeremy was recently named Maine's Technology Innovator of the Year at the 2008 Technology Awards Gala sponsored by TechMaine (formerly MESDA).

Matt James, 25, of Bangor has been employed with RainStorm Consulting since November 2007. A 2005 graduate of the University of Maine with a degree in New Media, he previously worked for a web development firm prior to joining RainStorm Consulting. An expert in usability and interface development, Matt is also a developer and active participant in the Mac software development community.