RainStorm Consulting programmer Jeremy Knope honored as Maine's Technology Innovator of the Year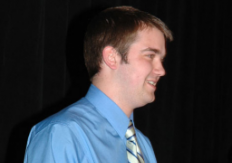 RainStorm Consulting is pleased to announce that web programmer Jeremy Knope has received the prestigious Technology Innovator of the Year award at TechMaine's 2008 Technology Awards Gala, held on May 20th in Portland.

As one of three nominees for the award, Jeremy earned the honor for his efforts as co-creator and lead programmer of SiteTurbine, RainStorm's custom suite of web-based applications. SiteTurbine modules for news, email marketing, photo galleries, and e-commerce power high-profile academic and business websites in Maine and 20 other states. Jeremy was also acknowledged for his contributions to the Mac software development community as well as his work with open-source server architecture.

"We're proud to have an innovator like Jeremy on the RainStorm team. Jeremy's continued focus on making the next big idea a reality for RainStorm and our clients has set him apart for many years. It's great to see Jeremy getting the recognition he deserves for his hard work," said Brian Rahill, President of RainStorm Consulting.