RainStorm celebrates 10th anniversary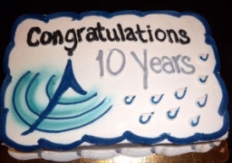 Last Thursday, RainStorm celebrated our 10th anniversary in business with a small gathering that included staff and family. We told stories, ate cake, and toasted 10 years of service to our clients.
On October 30 1999, founder and CEO Brian Rahill registered the domain name "rainstormconsulting.com". As a web development and software company, we think its fitting that our anniversary is defined by a domain name registration.
For those who may not know, the company began in 1999 as a search engine optimization firm before the word "Google" was a household term. Soon after, our first hosting clients came on board.
In 2001, RainStorm provided search marketing, web hosting, and web design services to a handful of clients.
By 2004, RainStorm hosted over 300 websites for small business and education clients in 20 states. In addition to search marketing and hosting, database-powered sites became a major offering.
2008 and 2009 will go down as banner years for RainStorm. If you haven't visited us lately, we've moved to a beautiful new space to accommodate our continued growth. We also received the Nonprofit of the year award from TechMaine for our work on the Maine Adult Education portal, our second year winning a TechMaine award for our work.
Our first 10 years would not have been possible without our many clients, who we are grateful to every day. Thank you for being a part of our first 10 years, and we hope to see you in the next 10!