Project Highlight: Maine Family Literacy Initiative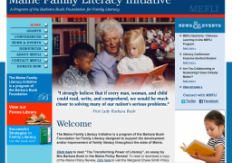 On June 2nd, the Maine Family Literacy Initiative (MEFLI) welcomed First Lady Barbara Bush to its annual awards ceremony in Biddeford. Mrs. Bush presented more than $300,000 in grants to literacy programs throughout Maine on behalf of the Barbara Bush Foundation for Family Literacy.
During that same ceremony, MEFLI unveiled its all-new website, designed and hosted by RainStorm. The new MEFLI website features news and events powered by NewsStorm, grant information and downloads, and a custom installation of ReviewStorm, grant-tracking software enabling the organization to track and process grant applications.
To learn more about how the Maine Family Literacy Organization is promoting literacy throughout Maine, visit them online at MaineFamilyLiteracy.com.