Popular Mobile App, 7 Little Words, Revamps Website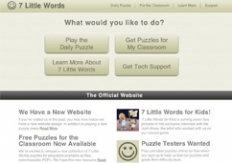 7 Little Words is a fun, simple, and challenging word puzzle that is enjoyable even for those who don't think they like word games. This mobile application has been downloaded by millions of people all over the world, and is based out of Caribou, Maine.
The popularity of mobile devices (tablets, smartphones, etc) is increasing rapidly, and it was a high priority from the beginning to make the site adapt to numerous devices. The new 7 Little Words website conforms content to the device, enabling users to easily browse the site.
In addition, the site informs visitors of the latest news, and provides special sections for support, FAQs, and a daily puzzle. The site was built with WordPress, which enables administrators to update website content quickly and easily. If you haven't play 7 Little Words, visit the site and get started today!