O'Brien Medical invents new ways to combat diabetes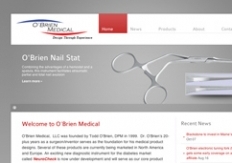 More than 25 million American suffer from diabetes. Maine podiatrist and entrepreneur Dr. Todd O'Brien hopes to help fellow medical professionals treating the disease with his company's newest product, NeuroCheck. The product is featured prominently on the all-new O'Brien Medical website built by RainStorm Consulting.
In addition to featuring the NeuroCheck, the new O'Brien Medical website, online at www.obimed.com, includes production information and downloads on the company's other products, along with a blog where Dr. O'Brien shares his experiences as a business owner launching a new product. The site is easily maintained by Dr. O'Brien thanks to WordPress, the simple website management software keeping things running behind the scenes.
An experienced medical device inventor, Dr. O'Brien's innovative products are inspired by his years of experience treating diabetes and pre-diabetes patients at his medical practice. Now, with the development of NeuroCheck and his participation in Maine's TopGun business program, Dr. O'Brien plans to refine, launch, and promote NeuroCheck, helping doctors across the U.S. and the world better treat patients suffering from diabetes.