New Office of Equal Opportunity website promotes equality at UMaine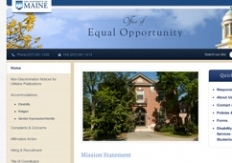 Do you know someone who was mistreated during their time at college?
It's nearing that time of year when students & faculty settle back into the college routine. Thanks to the Office of Equal Opportunity, individuals at UMaine have an advocate to ensure the safety and equal treatment of all. The office promotes a campus climate supportive of equity and diversity through advice, education, and intervention.
To promote this vital service, the new Office of Equal Opportunity website is built on the WordPress content management system. This platform enables staff to update website content, upload photos, and create new pages quickly, with no need for outside assistance.
The new site contains important information regarding complaints, affirmative action, hiring, and much more. At RainStorm, we worked hard to ensure that the new design is consistent with the University of Maine brand. We're happy with the finished product and thoroughly enjoyed working with the staff at the Office of Equal Opportunity.