New Bangor schools sites focused on informing the community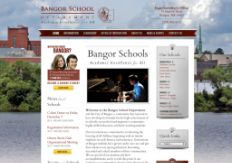 The Bangor School Department is a body of ten schools committed to "academic excellence for all." Located in Bangor, Maine, the school department serves thousands of students from kindergarten through twelfth grade. In working with RainStorm, the school department sought to build a site that is more modern and is geared towards informing parents and the Bangor community about the great things happening throughout the schools.
The all-new Bangor schools websites are designed to be a beautiful and useful source for information about the schools. Each of the ten schools within the department now have a full-featured website, including news updates, school-specific calendars, email newsletters, and links to online services for students and parents.
The new Bangor School Department websites are built on the outstanding, fast, and web-based WordPress content management system. This enables each school to maintain their own unique sites, while being a cohesive member of the department. The new school sites are also designed to respond to the viewers screen, enabling content to be displayed clearly and easily on mobile devices. At RainStorm, we're excited to partner with the school department to launch and manage the sites, and we hope they make it easier for Bangor parents and citizens to stay informed about the great things happening at Bangor Schools.