Meet Designer Evan Habeeb
Our methodical and creative force is all about the details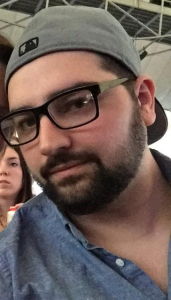 If you ask Evan Habeeb, RainStorm's graphic designer and front-end developer, about the rules of effective design, he will pause briefly before telling you that there aren't any.
"There's no real process or hard-set rules. There are best practices, and you work at the right direction until the client loves it. There's a balance between aesthetics and practicality. You have to gracefully arrange things and feel like it's an aesthetic environment but still have everything in easy reach."
Responsible for the aesthetics and the dynamic, visual side of our clients' websites, Evan's approach to design is methodical, considering even the smallest details, as well as creative.
First he learns as much as possible about the client he's creating for—what they like, what they don't like, what can be improved, and what's considered a solid "look" for the client's industry, critically considering what's done well. He then starts to work on a storyboard of the site and considers the site's goals. By the time the client sees a full-color rendering of the site, Evan has thought through the user experience and let it guide the way content will display on the site.
Evan came from a traditional art-based background before discovering new media and it's clear that he loves this thoughtful work, "I get super excited when I get a project placed in front me me. When I have the luxury of a giant, blank canvas—those are the best days. For me, that's the thrill, the spark of excitement of what you're into and it's true, if you do what you really love, it's very satisfying."
Keeping Up With the Times
While some projects start as an empty screen in which Evan can look toward the future, others, like updating the look of an existing site, present interesting challenges as trends online move at a rapid pace. "Websites age like dog years; time is sped up and a design shows its age. To reduce the effect, you build for the time you are in and you try to accommodate where things are going in the future."
It's one of the reasons that Evan appreciates working in WordPress. Many other platforms would require much more work in order to have a new look. Because WordPress separates the content from the design, it's relatively easy to visually update a WordPress website. While a new theme can be created for the display of content, the underlying web platform and site content remain constant.
Says Evan, "The separated setup, with the site running on the WordPress foundation and the custom theme running on top, make it such a slimmer process to refresh."
The Social and the Media
If you've ever followed RainStorm on social media, you may already recognize that Evan brings life and spirit not only to the sites he designs, but also to the office. As the creator and manager of PAIR, the Planned Activities Initiative at RainStorm, he could be considered the chief morale officer. PAIR activities bring the team together for experiences that are far away from computers, like RainStorm's recent whitewater rafting trip, or a walk down to Mill Street for drinks at the end of a work day. The "mandatory fun" each quarter "gives you something to work toward, something to talk about, and generally increases the mood," he says.
In addition to increasing the office's social experiences, Evan also make sure that RainStorm shares those on social media. Evan's most likely to be posting to the Facebook, Instagram, or Twitter feeds (in addition to our blog). "I try to keep the output more about people and fun, " he says, "and less business-centric. While there is plenty of content that's about business, I like keeping it lighthearted."
Evan emulates this in his life, too. When he's not designing, Evan relies on the outdoors, camping or visiting beaches, and lots of concerts, which he attends at every opportunity, to help keep his creativity fresh. "And movies," he says with excitement, "I love to make lists and rank movies. I'd like to review them someday."
When that day comes, we bet it will be the most beautiful, well-organized website of lists ever seen!