Maine Space Grant Consortium Launches New Website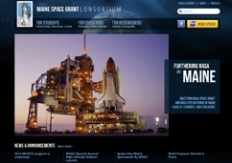 Maine Space Grant Consortium is funded by NASA to enhance space exploration, education, and research in Maine. Based out of Augusta, Maine, MSGC provides students, educators, and researchers with exciting opportunities to learn about and study space.
We've been working with Maine Space Grant Consortium since 2006. The new website has an updated look and user-friendly interface, and features rotating photographs of some of the exciting work the Consortium is doing. The website also provides a news section which is updated frequently and lets you see at-a-glance some of the great work going on through MSGC.
We used WordPress to build the site, which allows administrators to update their content seamlessly and will ensure the website stays fresh and up-to-date. We also made the site mobile-friendly so you can view it from anywhere.
Here at RainStorm, we continue to be excited about the work we're doing with the Maine Space Grant Consortium. We encourage you to take a look at their new website. We'd love to know what you think!