Maine Adult Education website honored as nonprofit site of the year by TechMaine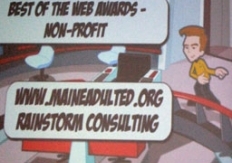 We're pleased and honored to announce that MaineAdultEd.org, a portal website connecting over 80 local adult education programs, has been chosen as the Best of the Web Nonprofit website for 2008 by TechMaine at their annual awards ceremony. Working closely with the Maine Adult Education Association (MAEA), the site came to be after many years of planning and the involvement of dozens of educators, support staff, and generous funders.
The website faced stiff competition for the award, and we congratulate the two other nominees in the category: Sephone Internet Solutions of Bangor for their work on the Dempsey Challenge website, as well as the MaineMerchants.org website built by Portland's Pemaquid Communications.
Our entire company traveled to the TechMaine awards event, where we were joined there by Kathi Medcalf, the director of the portal project for MAEA, who we partnered with to develop the site. It was particularly special having Kathi present, as her leadership as past president of MAEA transformed a concept into a reality for Maine's rural adult education programs, many of which are now guiding communities through our economic challenges with their services.
Thanks again to TechMaine for sponsoring the event and honoring us and the website.