Leading literacy workshops now available for online registration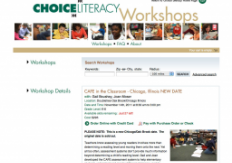 Today, finding and registering for Choice Literacy training workshops became easier with the launch of the Choice Literacy Workshops website. The website lists all of Choice Literacy's highly sought-after workshops, with innovative keyword or map-based search options, complete workshop details, and online registration.
The site is an expansion for Maine's own Choice Literacy, an organization offering a popular newsletter, training articles, DVDs, and literacy training workshops to educators all across the nation.
Supplementing its popular mail registration process, the Choice Literacy Workshops website provides an easy, secure way for educators to browse or search for courses by keyword or by map, read complete details on workshops, and register and pay securely online.
The Choice Literacy Workshops website is powered by SiteTurbine, web-based software for posting courses online, managing website content, and accepting student registrations and payments securely via the web.
RainStorm is proud to work with Choice Literacy to promote its literacy training events to educators nationwide.