Educational consultants Embracing Diversity re-launch with custom WordPress website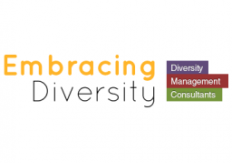 For Embracing Diversity, their name is their mission. The Maine-based educational consulting firm designs and presents workshops on diversity topics for college administrators, staff, and students across the US.
Angel and Eunice Loredo, co-owners of Embracing Diversity, knew that a simple, easy-to-manage website and newsletter tools would be keys to maintaining their marketing efforts amidst their busy schedules.
To meet their needs, RainStorm designed a custom theme for the company and built their new website on WordPress, the world's best open-source content management system. Using WordPress to manage their site, Angel and Eunice can easily post news, maintain their list of workshops, and add testimonials from happy clients.
To help Embracing Diversity keep in touch with the clients and reach new ones, RainStorm designed and configured an email newsletter closely matching the brand of their website. Powered by Campaign Monitor, the Embracing Diversity email newsletters are simple to maintain, write, and track — even for busy professionals like Angel and Eunice.
We're happy to help organizations like Embracing Diversity go online with simple, powerful tools that make it easy for them to stand out.