Development Spotlight: Shop Second Saturday
Has this happened to you?
You're a web development professional.  Maybe you're a freelancer or maybe you're part of a team.  You've almost built the website of your client's dreams but there's a hitch; they want some features that moves the project just out of reach of your resources or skill level.
We've had good folks come to us with this problem before and we're always glad to help out. Sometimes we can provide them with a little consulting to give some seasoned advice that enables them to complete their project.  Other times we can jump in, wrap up the project as a subcontractor, make their pain go away and help them deliver a magic moment to their client by delivering the website of their dreams without breaking the bank OR waiting for the cows to come home. The latter was just the case for the developers of Shop Second Saturday.
What is Shop Second Saturday?
Shop Second Saturday, a year-long program created by the Retail Association of Maine and Green Tree Events, is designed to promote Maine's retail businesses, and with the support of participating retailers, is helping to provide direct economic benefit to local communities. Retailers can sign up online and energize their marketing campaigns by taking part in a one-day per month S2S special offer. Shoppers in turn, discover sales, specials and promotions at Maine businesses and support their communities.
What The Client Wanted
ShopSecondSaturday.com developers first approached RainStorm for help with custom WordPress development on a brand new site that they were getting ready to launch.
Here is a list of their requirements:
Exclusive membership to the site for retailers
Complete front-end log-in and page creation
Complete front-end page editing capabilities
Simple page editing form
Responsive design
Dynamic Google Map, auto-generated from the retailers address
Retailers have the ability to upload new images to the site and edit the text for each new deal
As you can see, they had quite a list of requirements and we only had a limited amount of time in the budget.
What RainStorm Developed for Shop Second Saturday
Exclusive membership to the site for retailers
We started this project by giving retailers the ability to sign up for Shop Second Saturday with a simple registration form.
This is how the process begins for the retailers. They fill out the form and then must be approved by an administrator. The administrator can either approve or deny the retailer with one-click.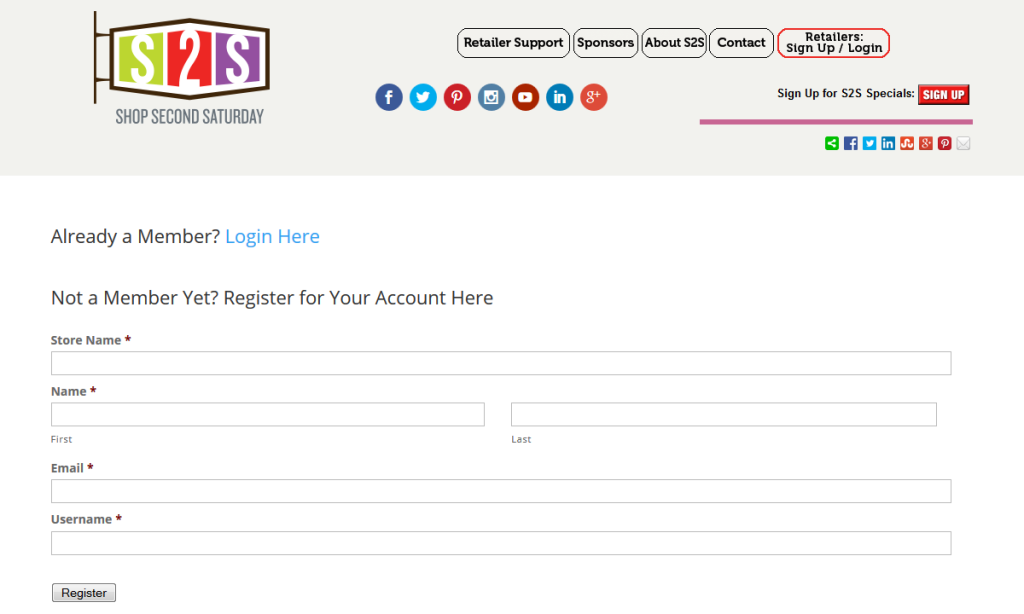 Once approved, they are sent an email with their log-in information.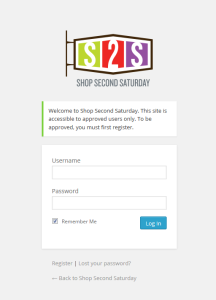 Complete front-end log-in and page creation
Once they are approved and receive their login information. The retailer can now log into the website via a custom login form to create their page. The very first time they login, they will be sent to the "Create Your Page" form, as seen in the image below.
Here they create their Retailer page and publish it to the website. Each Retailer will only ever see this page one time.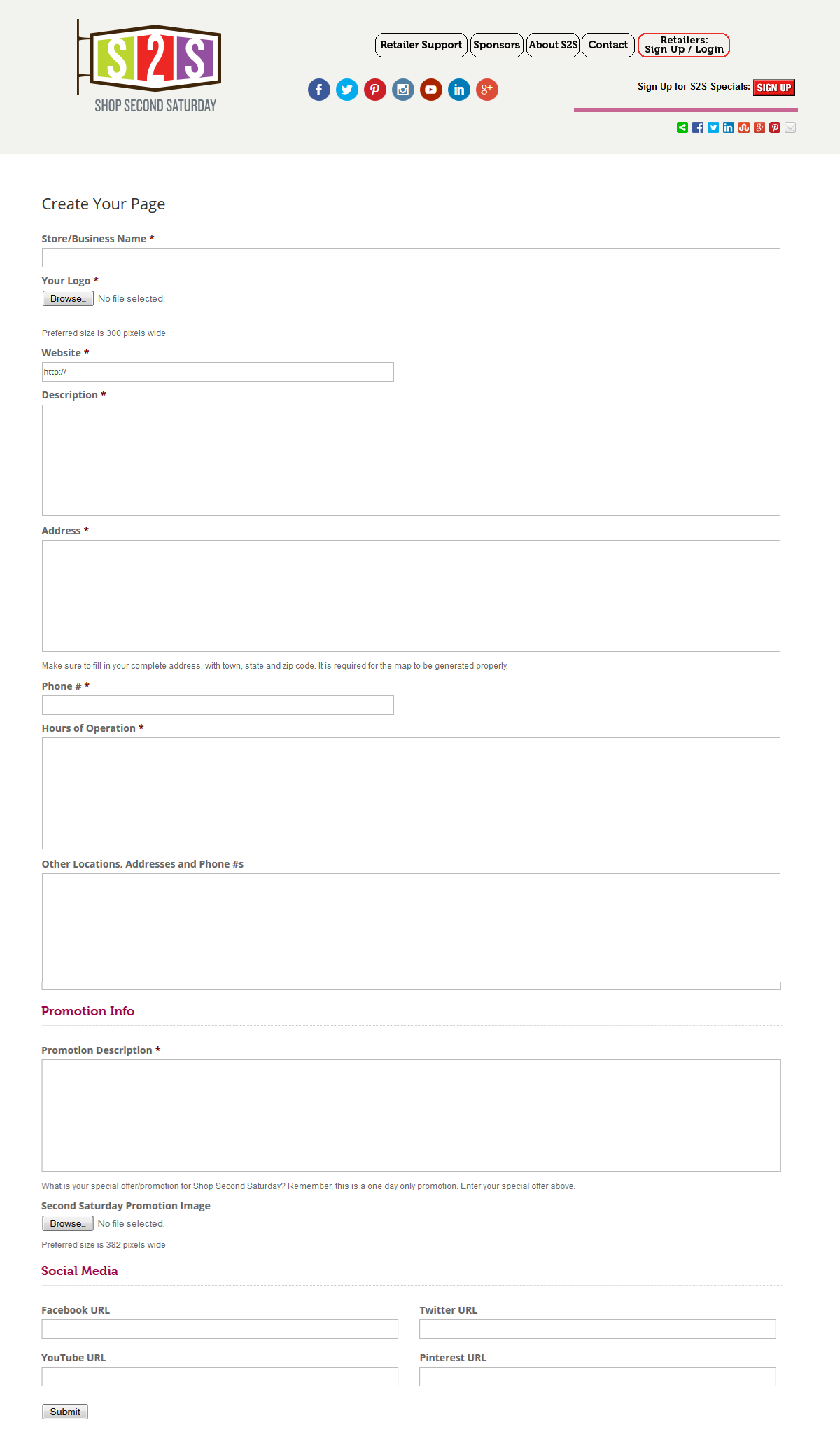 Complete front-end page editing capabilities
The next time a retailer logs into the website, they will be automatically be redirected to the "Retailer Page Creation and Edit" form, which is actually the Retailers page on the website, with an edit form embedded above the page content. Only the Retailer who created this page will ever see the edit form.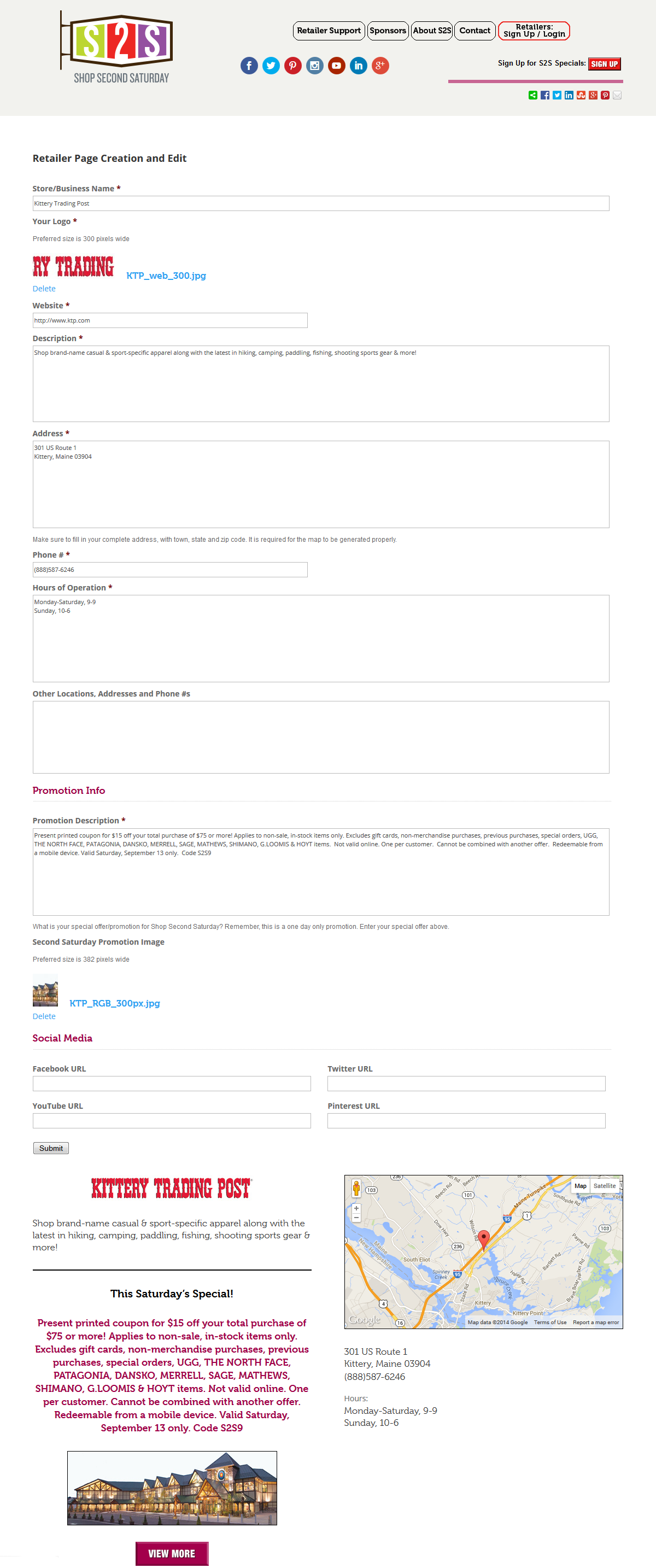 This gives each Retailer the ability to edit their own page as often as they like, so they can showcase their new deals every 2 weeks.
Responsive design
Finally we made the website responsive so it would look great on any size device, as seen in the image below.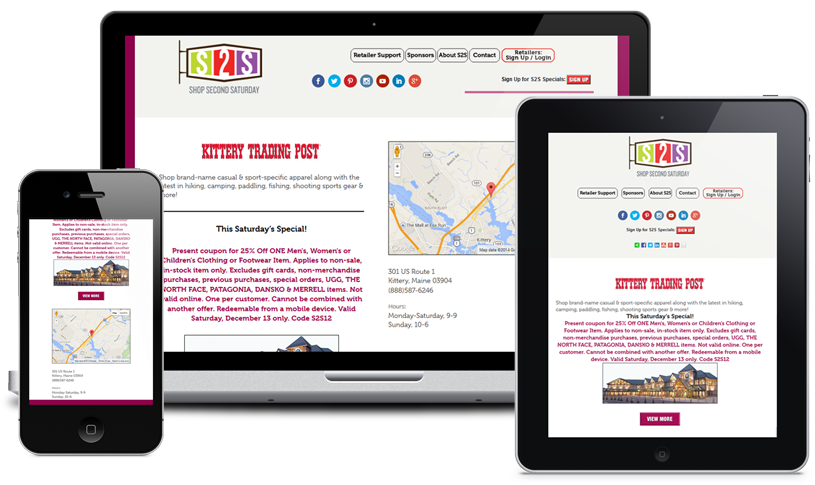 So if you are in need of some high-end WordPress development, Contact RainStorm for a quote.