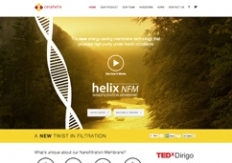 Cerahelix Inc.'s revolutionary technology, the helix NFM, uses DNA to make incredibly small, uniform holes in ceramics, creating a filter for liquids that is chemical resistant, resists fouling, and creates liquids of high purity.
The helix NFM can have a significant impact on the sustainability of the earth: according to CEO Susan MacKay, replacing a commercial evaporator with Cerahelix filtration tubes in an industrial setting where they're trying to remove 6,000 gallons of water a day could save 1,200 tons of carbon per year–equivalent to about 400 acres of forest.
What does that have to do with us? Cerahelix sought out RainStorm to help bring this message to the world.
The new Cerahelix website is built using the WordPress content management system. It sports informative videos explaining the patented technology, as well as information on their product and investors and an exciting news page. Additionally, the website is adaptable to fit screens of any size, so the site can be viewed easily on mobile devices without losing its color and vibrancy.
We're proud to have worked with Cerahelix in designing their new website, and we encourage you to check it out today at www.cerahelix.com!