Case Study: Helping a graduate program stay connected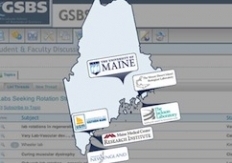 Helping organizations succeed online means more than building a great-looking website; often web-based software and services are the tools needed to help people connect easier and work smarter.
In the case of The Graduate School of Biomedical Sciences at the University of Maine, the more than 100 faculty members of GSBS spread out across six locations all over Maine needed a centralized, secure, and simple system to communicate, mentor students, and host a virtual community for a demanding, multi-disciplinary graduate program.
Our solution for GSBS involves extending their existing software platform to include two new custom tools designed from the ground up to facilitate easy, friendly, and secure exchange of student and faculty data, messages, and discussions.
In our most recent case study, we go in depth to identify the specific ways that GSBS needed to work smarter, and describe in detail our two custom-built software solutions designed to help GSBS faculty and staff stay connected and focused on their goals.