Case Study: Graduate Program Management Software
The status quo
The Graduate School of Biomedical Sciences (GSBS) at the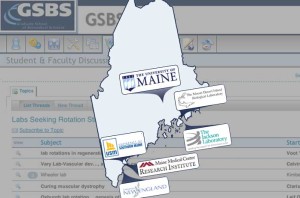 University of Maine is a unique graduate program spanning across four universities and three different private research institutions spread out from Maine's southern tip to its rocky coast and inland valleys.
While the multitude of institutions comprising GSBS provide a broad base of faculty expertise and experiential learning opportunities, the geographic distance separating students, faculty, and facilities also presents challenges for effective and timely communication, whether it be classwork deadlines, student reviews, or faculty collaboration.
The challenge
With the program's public-facing website completed, GSBS leadership identified two intradepartmental needs for effective ongoing program management:
A tool to help faculty track and manage graduate student progress throughout the complete program lifecycle; including the ability for students to upload dissertation drafts, papers and general exam responses;
A tool to enable simple, efficient communication between and across faculty and students who are spread out across different facilities over a wide geographic area.
In addition to these key organizational needs, GSBS also identified important factors for these tools to be successful considering the disparate physical locations and demanding workload for both GSBS faculty and students:
The tools needed to be web-based, yet secure and password-protected
The tools needed to be simple, intelligent, and interwoven with existing workflow — not an additional burden to the already busy lives of the program's faculty and students.
The solution
Because the public-facing GSBS website already takes advantage of SiteTurbine, a suite of web-based tools for managing website content, news, and faculty profiles, RainStorm recognized that building additional tools for GSBS on top of this existing framework would meet the goals of being web-based, secure, and interwoven with existing work flow.
Working from within SiteTurbine — a custom-built, secure web-based software — RainStorm designed and built two new modules specifically for GSBS:
Student Navigator
Student Navigator enables GSBS faculty and students to track and manage student progress throughout the entire three-year program. Student profiles are automatically created from existing website profiles, and include student photos, bios, and student-specific program milestones, due dates, and program details.
The web-based system provides a single, centralized, and secure location for faculty across six institutions to get an overhead view of a student's path through the program, discuss student milestones and progress, and be much better prepared for meetings and reviews with less work.
Discussions
With the Discussions module, GSBS faculty and staff have their own custom-built message board, where they can create topics, respond to existing ongoing discussions, and even subscribe to email notices for ongoing and/or new discussions.
Discussions provides for a single, centralized and private place for the GSBS community to discuss important topics and make collaborative decisions on the record. Because it's smart enough to organize information logically and notify participants automatically, it's an easy way for GSBS community members to stay connected throughout the year.
The results
Launched for the fall 2011 semester, both modules are now widely used by over 50 graduate students and more than 120 faculty members across six institutions, enabling tighter, faster, and easier communication across both groups.